How To Shave When You've Had Scalp Micro Pigmentation?
Experiencing hair loss can be a defining moment in the life of many men. In the early years, you really would not have had an option but to embrace your balding head and brace yourself. In the 21st Century though, you have a lot of options available to you.
For you, you settled in Scalp micropigmentation. As straightforward as the procedure was, that wasn't the end of the story. Now, you have to maintain it.
This might seem like a stretch, but is an actual fact. A good number of men out there have never shaved the hair on their head themselves. Barbershops are everywhere, and they are quite stylish. So why would you want to shave your hair yourself?
If you do not have a close relationship with a barber, it might be difficult to open up on your situation and that means having to do things by yourself. But what will you be doing to keep your head looking neat?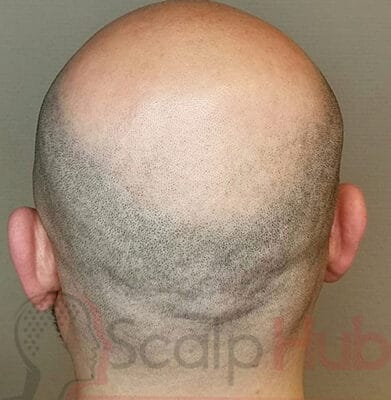 Giving yourself a cut – Scalp Micro Pigmentation Shave
The thing about scalp micropigmentation is the fact that your head will always look like you have a buzz cut. That is how you want to maintain it. The best part of this is, it is very easy to maintain, and doesn't need specialised equipment or chemicals to maintain it.
The first thing you need is to get yourself a trimmer. You will be using this trimmer at most two to three times a week, depending on how fast your hair grows, to maintain that buzz cut look.
Before you begin, you will need to dust it and clean it. You can do this by using a cool spray, or by using an antiseptic wipe.
Next, the angle which you place the clipper will determine how good a job you do. You want to angle the trimmer in a way that it is flush against your scalp. You will just need to guide the trimmer without placing any pressure on the movement.
Getting the cut just right – Scalp Micro Pigmentation Shave
In some cases, the hair doesn't really go away. You will still be experiencing situations such as peach fuzz or sparse hair. These hairs are the target of your weekly shave. Dealing with them is a matter of going against the grain when shaving.
When it's time to shave, it's important to pay great attention to the area where the scalp micropigmentation was conducted. This ensures that you get all the hair and no stubbles are left behind when you run your fingers over your scalp.
The buzzer is your helper in this endeavour. The sounds it will make when you are shaving will be an indicator of what is going on. Typically when the shaver doesn't have a load to deal with, the buzzing sound will be quite mild. It is only when it comes across hair will the buzzing sound become louder.
With this knowledge, you can get yourself the perfect buzz cut and maintaining a look that gives you the confidence to face the world outside.