Treating hair loss has come a long way over the last few decades. Whereas for many before, the prospect of facing hair loss meant having to use a variety of medications to get things going, or even turning to hats and other concealment methods, these new hair loss treatments promise a new way to get things done.
Scalp micropigmentation, one of these lesser explored treatment options, is great at dealing with a variety of hair loss situations. Here are the types of hair loss restorations that Scalp Micropigmentation is capable of handling
Scalp Micro Pigmentation For Hairline Restoration.
The thing about balding is it generally changes the landscaping of your head. From a well-defined forehead to an amorphous line that sits quite close to the crown of your head than it is to your forehead. This can be a serious dent in your confidence and your self-esteem.
Scalp micropigmentation is a great option to rely on if you are not too sure about other invasive hairline restoration methods. With this method, you can generally restore the hairline you had, or you can even craft a new one that will greatly boost your confidence and put a pep in your step.
Scalp Micro Pigmentation For Total Hair Loss Restoration.
Nature can be cruel to men. Instead of the hair line receding and just being an indicator of age, sometimes you can be left with a completely bare patch that dominates the landscape of your head and becomes a prominent feature of your description.
Not many people are comfortable walking around like that. The best part is, you don't have to.
You can simply walk into a hair loss restoration office and begin the process of regaining how people describe you. This can be with your clothes, swagger, demeanour, but not the physical feature on your head.
Scalp micropigmentation will create the illusion that you have a full head of hair. You have just taken a trip to the barber to make yourself look neat and presentable.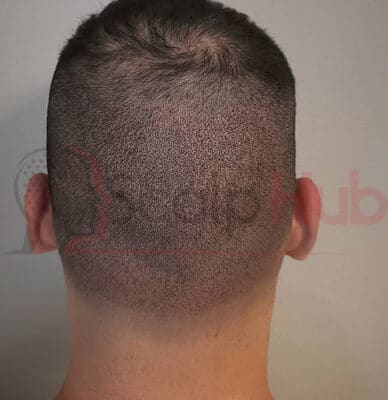 Scalp Micro Pigmentation Density for Thinning Hair.
Hair loss manifests itself in very many different ways. Some could be as a result of genetics, and others a result of the environment you are currently living in. These are by no means the only ways of losing hair but among the most recognisable of this is thinning hair.
A great way to conceal this is to get a short haircut. This can work great in many instances, but it still leaves a lot to be desired. That's where scalp micropigmentation comes in.
With this method, you can add the illusion of volume on your head. Your hair cut will now look fuller and thicker and give it that lustrous feel with the contrast it makes against your skin.
Scalp Micro Pigmentation For Camouflaging Scars.
Hair transplants are great at putting the hair back on your head, but not without some effects. Depending on the method you went for, you could have patches of scars around the back of your head, or even a straight line from ear to ear.
Scalp micropigmentation will ensure those scars are completely camouflaged and makes it disappear into the rest of your hair.