So, what happens during a consultation for Scalp Micro Pigmentation?
In the years that have gone by, the prospect of having to live with hair loss has been a bitter pill for many men to swallow. This is even worse when you consider that some men to have such good hair that it becomes the envy of many women.
In recent years though, many different options have popped up. Scalp micropigmentation has definitely been one of them, and you definitely want to try out this new idea for yourself. The thing is, you don't know what to expect during the consultation.
Well, here is how it's going to go.
Where the consultation will be conducted.
The power of the internet has made things very easy. No longer do you have to prepare yourself for a physical visit. You could simply book a consultation session and choose whether to have it as a video call, or just a regular phone call. For the descriptions, you can choose to send in photos as the consultation is going on, or email them as attachments.
You can also choose to have an in-office consultation. If you are the kind that would like to speak with the practitioner face-to-face, then this is a great option for you.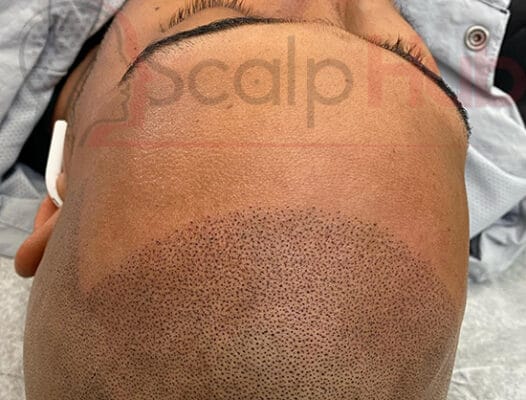 What you will be discussing.
Yeah, you probably wouldn't be going to a hair loss specialist to discuss the three continuous nights of heart burn, would you? You are there to find out how scalp micropigmentation is conducted and how it can work for you.
You, of course, will be discussing your hair loss journey and how you would like to handle it going forward. If you've also had an FUE/FUT hair transplant, you will also need to hid the scar that is left.
Picking the hair line you want.
Hair loss tends to redefine how your head will look like. In most cases, many people will be conscious of how they look. This will result in people resulting to shaving completely bald. That itself is an indicator that one is suffering hair loss, and it generally doesn't work for everyone any way.
With scalp micropigmentation, you get a new lease of life, and a leeway to create a hair line that you know can work great for your head.
Hair lines manifest themselves in different styles. There are those that have soft fringes that darken towards the centre, those that have a well-shaped line with sharp lines of a buzz cut, you can have a slightly curved no frill hairline.
Your options are limitless. You just have to settle on one.
If you are not sure on what hair line to get, it would be best to go for that appointment with some pictures of your head. You can then begin sketching out various hair lines to see which one suits you best.
Once you have decided, the practitioner will talk you through how the procedure will be conducted. You can choose how dark you want the micropigmentation to look and whether to connect it with your beard.